BIO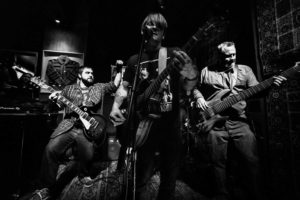 Stoning Giants
Larry Sawyer – Vocals & Guitar
Jedediah Jester – Bass Guitar
CJ Ries – Lead Guitar
Derik Madrid – Drums
Stoning Giants' distinctive rock sound boasts flavors of metal, punk, folk and funk featuring the powerhouse voice of Larry Sawyer, high-energy guitar of C.J. Ries, Derik Madrid rocking the skins, and the bad-to-the-bone bass stylings of Jedediah Jester.
Stoning Giants was formed in 2013 and quickly began performing private parties, clubs and festivals, such as Hemp Fest. Stoning Giants' break-out CD "Clear as Mud," was released in 2014 and received airtime on KINK radio in Portland.
In 2019 the single "Sifting Ashes," a haunting tale of the 2018 Paradise Camp Fire, was released, receiving thousands of YouTube views.
The recording studio is alive with the sounds of numerous new releases currently in the works with plans for an album this year.
Sawyer is a mainstay rocker from Portland, Ore., formerly heading bands Diamond Edge, Core, Hundred Horse, Braid and Untyd. Sawyer has an original and organic sound. He hails from a family of musical talent.
Jester, a business owner in Grants Pass, Ore., also played for several metal bands in Oregon including Untyd and Deflower.
Madrid, basically born with drumsticks in hand, has performed as a drummer professionally since age 10. He is well-known for playing in Bay Area rock bands. He played for bands including Angel Heart, Deeply Madd, Even Deeper, Green Emily, Furlough Fridays and The Reflections. Madrid is a music and video producer at 21st Century Entertainment in Red Bluff, Calif.
Ries, a home-grown Portlandian-shredder, is a young prodigy who channels every '70s rock song known to man. His electrifying sound and performance are a constant fan favorite.
To learn more about Stoning Giants, visit stoninggiants.com, Facebook, Tehama Music and Art, Instagram and Tik-Tok.
Links